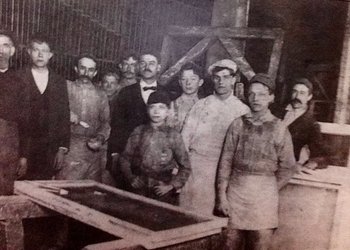 Huttig Sash and Door, Back row first on right, Henry Korte,5th from right, Fritz Wilhelm. Small boy in front Walter Wilhelm
During the latter part of the 19th century, Glaziers were men who worked in sash and door companies and hardware stores, such as Huttig Sash and Door, Fox Brothers Planning Mill, Wellston Paint and Glass, Hadley-Dean Glass and Ratz Brothers Hardware.
With the impetus of the Labor Movement in the late 1800s these low paid men joined together to form a union, Glaziers Local Union 138 on October 4, 1899. Their wages were $.30 per hour. The work week was 45 hours and half a day Saturday at straight time wages.
Glaziers Local 138 of the Brotherhood of "Painters and Decorators of America Independent " which was in schism from the Brotherhood of Painters, Decorators and Paperhangers of America A.F. of L., merged with the B.P.D. and P.H. in 1901. Glaziers Local 138 was given a new number, 513, as there was another local in the Brotherhood of Painters, Decorators and Paperhangers in Vancouver B.C. with the same local number. The local union with the earlier charter was allowed to keep the local 138 #, Vancouver had been chartered four months before St. Louis, from then on we became Glaziers Local Union 513.
At about this time Local 562, Art and Decorative Glass was chartered and merged with Glaziers Local Union 513 in 1963.
Unfortunately, no records survived from that October day in 1899 when we were chartered. The original documents have been lost or destroyed. It is believed the following are the original charter members of Glaziers Local 513. We apologize for offending any member who may have believed his father or grandfather may have been a charter member but we cannot verify any names other than those listed as follows:                                                                                                                      Harry Calvin,Charles Goetz, B. Heet, Peter Miller, Joe Knebel, Ben Lorenz , Henry Schroeder , J.J. Lake, Lou Burbank, Fred Hollis , A. Hild , Jack Jarvis , Charlie Freesmeier , Charles Pfeiffer and Gus Weiss

The officers of Local 138 at the time of the Granting of the Charter were B. Heet, Business Agent and A. Hild, Financial secretary.

Business agents throughout the past century were as follows : 1899-1906    B. Heet      1906- 1913  Rip Egan        1913- 1920 John Bick             1920- 1930 Sam Ferguson       1930-1940 Willie O'Donnell     1940-1944 S.F. Raftery        1944-1946 Kirby Johnson         1946-1958 Ray Steins       1958-1962 D. Greishaber      1961-1965 Adron Floyd         1965-1967 Bob Riley           1967-1973 Ron Brown        1973-1987 Jerry Krause                    1985-1987 Pat Hughes             1987-2006 Frank Scimo            2006-2012 Dennis Stegmann       2012- 2016 Mark Kuhlenberg  2016 to present John Deeken Field Rep /Organizer, Curt Kimbrell Sr. Business Rep
At the turn of the century most windows were wood or steel. Aluminum started to be used in the twenties. Most windows had angle glazing, face putty or wood stops. The men who worked in the mills or hardware stores could cut glass and face putty ,those were their skills. When metal storefronts came to vogue they were made from copper. Aluminum came later.
1919-1920 After World War 1 , large factories were built, some having 40,000 to 200,000 lites of glass, all face putty. Most were steel sash windows, but some were wood windows.
1925-1930 Vitrolite, a colored glass 11/32 or thicker came on the market as a replacement for marble. Glaziers Local 513 took in a marble man to teach glaziers how to install this material, Ray Steins. Vitrolite covered walls, columns, bulk heads and headers of movie houses, storefronts, kitchens and baths in housing. Millions of square feet were installed up until the mid 60's when it fell out of favor. It was produced by LOF Products and PPG and came in 20 colors.
1929-1937 When the Depression hit St. Louis , there was very little work for Glaziers within 513's territory. The rest of the country was in the same condition, so there were no jobs for our members even if they were willing to travel. In order to be a union shop, employers had to agree to hire a minimum of 4 people every day. There were only 4 shops, Pittsburgh Plate Glass, Hadley-Dean, Burroughs and Nurre. When there was a large replacement  extra men were hired. It was not uncommon for a fringe glazier to work 25 to 30 days a year.
1939 Glaziers went back to 40 hours a week.
1940-1945 All trades were returning to work and Glaziers began to work overtime before the beginning of World War II. When America went to war every Glazier was working 6 to 7 days a week. When the veteranss returned to the work place the government directed the union to open up the apprentice program to the veterans. 513 took in 7 to 10 apprentices for ten years. During these years 95%of storefronts were made of aluminum. We were experiencing full employment which was to last for 19 years.
1954 Tubular metal and tube aluminum doors were introduced to the market. Our glass companies got the distributing rights to this material and the glaziers began installing these new materials.
1960 Glaziers started erecting small curtain walls, 12-20 feet high. Flush glaze tubes came on the market. Pre-glazed windows started arriving in St. Louis. We first saw their use in residential capacity. The early 60's were a big building boom in downtown St. Louis. The installation of fixture glass in retail stores was awarded to Glaziers, this work had been done by Carpenters for 60 years. Glaziers 513 gained untold numbers of hours by the award of this type of work.
1970-1993 During the early 70's many members had to leave town to find work. The post war building boom had ended. Several old line glass houses went out of business in the early 80's. Trouble with non-union and disputes with other trades, Carpenters, Iron Workers and Sheet Metal Workers were taking their toll on our traditional work. In 1992 and 1993 half of 513's members were out of work.
1979 The Glaziers union, almost from the date of their original chartering , had their offices at the Painters District Council headquarters. The first meeting place was at Spellbrink's Hall at 1319 Franklin Ave. In 1923 the Painters purchased a church on Grand at Page where they met for 22 years. In December of 1950, The District Council moved to 2715 North Union Blvd. In 1960 they moved to the current Painters District Council Building at 2501 59th Street. Through all those years , Glaziers 513 kept their offices with the Painters. Then in 1979 during a period of political unrest at Painters DC2, Glaziers 513 was forced to relocate their offices. It was a difficult period. We rented officespace at the White building on Brentwood and held our union meeings at Howard Johnson's.Our members didn't have easy access to the Business Rep and Fund office personnel. The Pension Fund Trustees, at that time, decided to look into the feasibility of building a Pension Fund Building. Finally in June, 1981 they took possession of the new Glaziers, Architectural Metal and Glassworkers Pension Fund Trust Building. The Pension Fund Trustees oversee the operation of this building and rent office space and classrooms to the Elevator Constructors Local 3, Sign and Pictoral Painters Local 774 and their own Apprentice and Journeyman Training Fund and our Union offices.

1951 Health and Welfare Plan was started.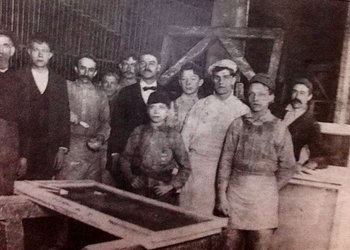 1955 Vacation Fund was started.
1959 Pension fund started with $.10 contribution, the original trustees were Walter Brown, Bob Riley and Ed Walsh. The first members who retired in 1959 received a monthly pension of $25.00 at age  65.
1955 Vacation Fund was started.