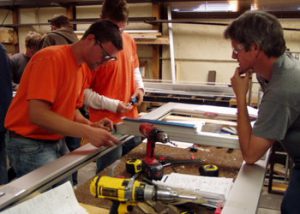 WHAT IS A GLAZIER, and how does the Apprenticeship work?
A Glazier is a craftsman or woman that cuts, fabricates and installs various materials associated with glass systems in commercial buildings and residences. With the scope of work being so extensive and broad, the glazier must know and be proficient in many areas and with many different products. This is why the apprenticeship program is so important.
You must have : High School diploma or GED, reliable transportation, be able to pass a drug test, no fear of working at heights and be self-motivated and team orientated
The first step to a great career is to apply. We accept applications both online and in person from 8 to 3:30 Monday thru Friday, at 5916 Wilson avenue. An apprentice after applying, will be tested and interviewed and if selected , will be given a probationary position in the union (6 months). The apprentice will then be informed of their home shop to start their 4 year apprenticeship.
The starting pay will be 50% of the current journeyman pay scale of wages and benefits. As a member of Glaziers Local 513, you will have to join the International Union of Painters and Allied Trades of which we are a charter Allied trade.
You will be required to complete 842.5 field hours and 72 training hours every 6 months to advance to the next level which also includes a 5% higher rate. Example: After the first year (50%) the apprentice will graduate to 55% pay and every 6 months thereafter go up in 5% increments.
We currently do all of our training in our 4800 square foot training facility located at 5916 Wilson Ave. We train you in blueprint reading, welding, glass cutting, sealants, door hardware, curtainwall, storefront, hoisting and rigging, crane signaling and OHSA 30. You will be proficient in all of these areas once you complete your apprenticeship. We have been training highly skilled, safety conscious glaziers since 1899.
We accept applications in person from 8 til 3:30 at 5916 Wilson avenue, St Louis Mo, 63110 and the online application is under the apprenticeship page heading.
Events for October
30
4:00 pm - 6:00 pm
Events for November
1
No Events
Events for November
2
No Events
Events for November
3
No Events
Events for November
4
No Events
Events for November
5
No Events
Events for November
8
No Events
Events for November
9
No Events
Events for November
10
No Events
Events for November
11
No Events
Events for November
12
No Events
Events for November
13
No Events
Events for November
14
No Events
Events for November
15
No Events
Events for November
16
No Events
Events for November
17
No Events
Events for November
18
No Events
Events for November
19
No Events
Events for November
22
No Events
Events for November
23
No Events
Events for November
24
No Events
Events for November
25
No Events
Events for November
26
No Events
Events for November
29
No Events
Events for November
30
No Events