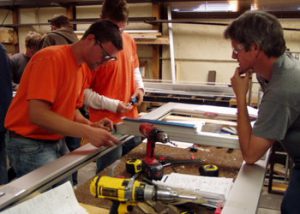 WHAT IS A GLAZIER?
The Glazing industry is comprised of many facets and applications of construction technology. Glaziers cut, install and replace all types of glass related products in commercial and residential window, storefront, skylight, architectural panel and curtain wall systems. They are proficient in the installation of all types of aluminum and glass doors, understand the intricacies of waterproofing and flashing, as well as the ability to perform quality custom shower door and mirror work.
The Journeyperson Glazier possesses an understanding of math and layout skills, an ability to read shop drawings and blueprints and is trained to feel comfortable with a builder's level, laser level or the use of today's most sophisticated power tools to perform their work. Naturally he or she feels safely at home in or on most scaffoldings, aerial stages, lifts, platforms, and work from ladders. Safety is of paramount importance and he or she must insure their own safety, as well as the workers around them. Glaziers do a large amount of lifting, carrying, and climbing.  Journeyperson status is achieved after completion of a four (4) year- state certified apprenticeship.
Anyone interested in learning more about the opportunities or benefits of a Union Glazing Career is encouraged to contact our office.